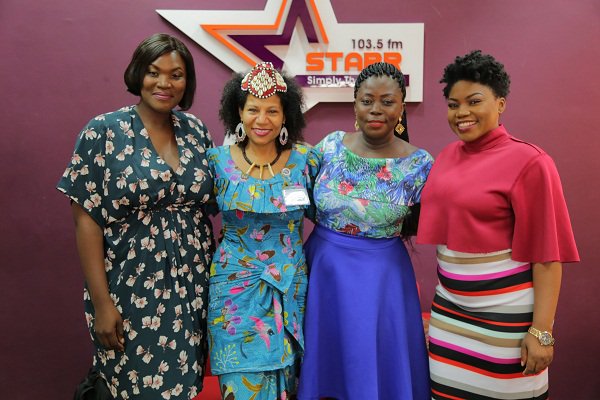 In her week- long trip to Ghana ,after being  invited by Ghana office of All Africa Media Network , organisers of The African Women Intercultural Dialogue , Queen Diambi  Kabatusuila Tshiyoyo  Muata has made significant positive strides towards the success of the event, her trip which coincided with the Ghana at 60 Independence celebration offered her the opportunity to felicitate with the Ghanaian people and share her lofty ideas and message for All Africans.
As a royal Mother, and Monarch of her people she paid courtesy visits to La Mantse and  Sempe Mantse We, all in Accra Suburb, where she initiated a bilateral relationship between the Royalty and the people of the two traditional areas with hers in Bakwai Indu ,Kasai , in ancient Luba kingdom in Congo Dr.
" I bring you  goodwill message from my people whom owns me and who  I represent and  seeking for a mutual union between our kingdoms, a road map  towards successful collaboration that will lead to positive cultural exchange ,via traditional ,economic and social engagements that will yield positive success in the life of ordinary Africans as well as its statehood, I congratulate the people of Ghana for their historic achievement in becoming the first African Nation to reclaim its independence from its colonial masters as they celebrate 60 years of achieving this feat" she relates to La Mantse and Sempe Mantse We at her visits to their palace respectively.
Her entreaties was welcomed by the two kings, who appreciated her visit and welcomed her warmly and told her of their gratitude and commended the humility in which she sought for the re-union of friendship and brotherhood among their traditional people  " Africa was once a continent without barriers, despite our little differences we recognised each other as brother. our people travelled to  each other's communities without VISA or Immigration cards ,though things have changed now, we shouldn't allow the new trend of  things change the fact that we are friends and brethren " La Mantse said and assured of her of a new union between their respective communities.
She attended the celebration of International Women's Day  event which was organised by the office of the First Lady Ghana Her Excellency Mrs Rebecca Akuffo Addo, where she also had a brief chat with some of the influential women that attended the event, including the former First Lady of Ghana and presidential flag bearer of NDP in the last presidential election in Ghana, Nana Konadu Agyeman Rawlings.
Queen Diambi proceeded with a short media tour in Ghana, in which she first called upon  Comrade Kwesi Pratt Publisher of Insight Newspaper, and they had a brief chat on the future of Pan- Africanism ,Comrade Kwesi Pratt gave her gifts that comprised of Books of the Legendary Kwame Nkrumah whom she had confessed to adore in their conversation, afterwards she  was taken on a short tour of Pan African Tv Complex, which ended in an exclusive interview on Pan African Tv's The Couch ,a tv program being hosted by Ama Pratt daughter of  Comrade Kwesi Pratt, and one of the sizzling package in Pan African Tv programs, Pan Africa TV is live on air and broadcasts in 13 African countries, including the Democratic Republic of Congo.
She was also hosted by the Ace broadcaster Anita Erskine on her talk show in Starr FM 103.5 and also by Joe Addo on Eezy FM 107.5
The graceful Queen Diambi Kabatusuila also attended the Global Women Mentoring Walk which was organised  by Bridget Dzogbenuku of VV Lead Fellow Ghana , in which she communicated to the young women about the importance of learning about their history and their ancestral cultural Heritage to promote self esteem and pride in who they are so that they can have the confidence necessary to strive for the best in their life, which after she spoke to the correspondents of First Digital Tv Ghana.
She honoured Kim Poole's invite to Teaching Artists Institute  where she spoke and adviced the African artists to charge of recreating the new Africa through their creative works which is spiritual and should embody the positive energy of Africa and push positive  messages into the conscious and sub-consciousness  of the Africa people ,in other to help in accelerating the much needed shift in paradigm  in the continent.
She never relented in inculcating the need for  African Women Intercultural Dialogue at this time in history  " in ancient African community ,there was no need for women empowerment ,women equality etc because there weren't need for such concerns, activities for each gender was balanced and defined, both women and men had  their roles to play and none was infringing on each other's space, we are communal people, you can't just wake up and divorce a woman, the whole community will be involved, Female Genital Mutilation was  not an African practice and today it is being misrepresented as so, women were part of the economic activities they had farm lands given to them by their husband and mother in-law  which they cultivated and sold the proceeds from, am not saying  everything was perfect in Ancient African time, but we need to revisit the past and take some of the things we have abandoned ignorantly ,which are still significant in today's cultural space and infuse them in our current ways of life, everything about our culture and past practices are not evil and i will be speaking on Female Genital Mutilation and how it was infused into our ways of life today ,on April 25th at the Accra International Conference Centre"  she affirmed