Many believes that the recent prophecy is a sham, a tool of psychological control and a gimmick to test the waters of public reaction.
 Others argues that its prophetic and of God but wonders why some of his prophecies had failed especially that on  President Buhari when he was seeking for re election in 2018 election.
Reverend Father Ejike Mbaka has remained a controversial figure with his continuous inclusion of politics to his religious practice a situation that has attracted lots negative utterances and hurling of insults against the man of God by those his prophecy did not favour and admonishment from the Catholic Diocese as well who publicly states their displeasure towards his utterances threatening to discipline him  as often as possible. But the prophecies have attracted more followers and visitors to the adoration ground in search of prayers and miracles especially since his 2015 political prophecy against Goodluck Ebele Jonathan, and now his latest prophecy of 2020 seems to have  positioned him as Gods personal assistant to some people in the south east of Nigeria following the outcome of the Supreme Court judgment against Governor Ihedioha yesterday.
Prophecy against GEJ in 2015
Getting involved in political hullabaloo has been part of father Mbaka's past time and has been one of the anchors of his religious movement that attracts more membership to him. From the days of Governor Chinwoke Mbadinuju and Chimaroke Nnamani ,Father Mbaka have always had an axe to grind with one politician or the other and took his political contentions from State to the national stage in 2015 when he told members of his congregation to vote out Goodluck Jonathan on Thursday the 1st of January 2015 after the wife Dame Patience Jonathan visited him for prayers. He prompted thousands of his parishioners at his Adoration Prayer Ministry in Enugu to vote against Goodluck Jonathan that he has brought badluck to Nigeria.
Prophecy against Peter Obi and Atiku in 2019.
After Goodluck lost the election and President Muhammadu Buhari emerged as the president of Nigeria, PDP went to the drawing board to re-strategize on how to take the power back ,Atiku was given the PDP ticket as its presidential flag bearer and he chose Peter Obi of Anambra State as Vice presidential candidate, an altercation ensued between Father Mbaka and Peter Obi when he visited the adoration ground Bazaar on Sunday 2nd December 2018 and made a silent donation, Mbaka declared that Atiku will fail in his presidential bid, following former Governor Peter Obi's refusal to publicly announce his donation.
The priest, in a viral video, asked Obi several times to make his donation to his ministry public, but the PDP Vice-Presidential candidate said he will disclose what he will do privately. In his response, Mbaka said "God hates stinginess. I am not telling you this, to make you happy. This is what will save your life. Otherwise you and Atiku will fail."
According to The Cable, He also said "If there is a place they will coat words for you, it is not at Mbaka's altar. You can save your political destiny. Or in 2019, you people will not even know how they did the election. What will make my brother to come for bazaar and he won't even break kola?"
"The way you and Atiku are moving will end in shame".
"Let us continue our bazaar. You know since he is not supporting us, the ministry has been moving. If people start arguing like this, their downfall begins," he added.
The former Governor of Anambra in his own reaction asked the people to pray for the priest
Obi who noted that he had a reverend sister and a reverend father as elder and younger siblings respectively, added,
"I have full respect for men of God and will always remember them in my prayers.When they go wrong as humans, subject to human frailties, ours is not to castigate them, but to pray to God to lead them aright."
And that was it, 2019 came ,Atiku and Obi lost the election,went to the tribunal and lost.
Mbaka's Prophetic Proclamations On Imo In The Recent Past , And Presently.
The loquacious priest was also instrumental in former Governor Ikedi Ohakim of Imo State PDP losing power when he was alleged to have whipped a priest in Imo State who accidentally blocked his entourage while he was on an official assignment. Ikedi Ohakim never had it easy with the catholic folks in Imo and beyond as this accusation that he was later absolved of by Archbishop Obinna of the Imo Catholic Diocese years later , but that was after he had lost his re election bid in 2011 in which his issue with the catholic was one of the strongest campaign points of the then opposition Senator Anayo Rochas Okorocha.
8years later power has returned to PDP from the APC ,when Governor Emeka Ihedioha was declared winner of the March 2019 election ,a victory that Imo people believed was on point from the scale of equity and justice as the Owerri zone which Ihedioha represented with PDP mandate has not govern the State in this 4th republic while Okigwe has 4 years under Ohakim , and Orlu zone has 16 years already,8 years each for the past governors from the Zone Chief Achike Udenwa and Owelle Anayo Rochas Okorocha and the controversial Supreme Court judgement has also returned power to Orlu zone once again by declaring Senator Hope Uzodinma of APC the true winner of the 2019 guber election in Imo and the new Governor of the State.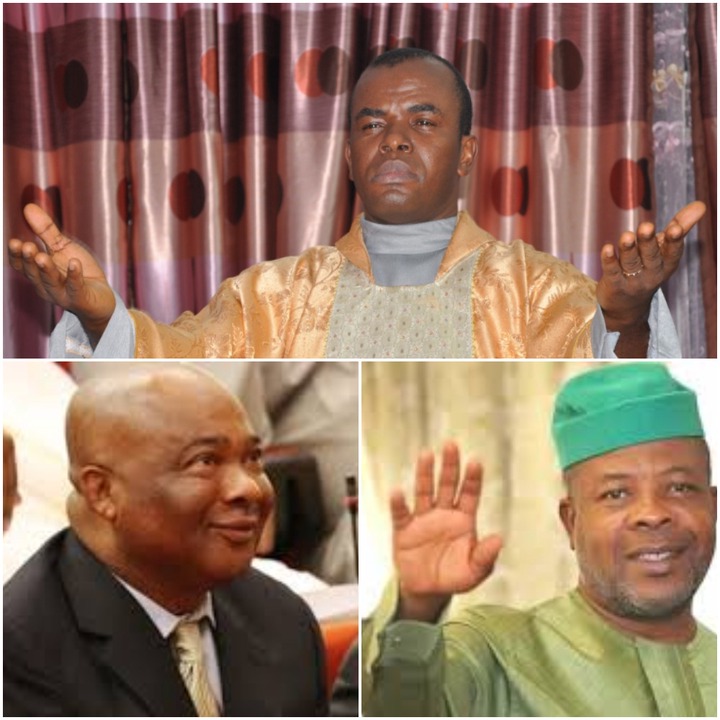 Divided Opinion Over His Latest Prophecy.
Nigerians went to social media to react over the supreme court judgement ,some in support of it others against it. As many are high praises for the prophecy of Mbaka who has declared that a new Government was coming few days prior to the judgement, others believe that the catholic priest  was in the know of a purported agreement by the powers that be to take back Imo state from PDP by any means necessary and return it to APC thereby resorting to the only sure option which was the judgment that was given yesterday the 14th of January after a long legal battle from the tribunal to the appeal and finally the supreme court.
People of this infamous school of thought that is denigrating to our judicial system says they saw the handwriting on the wall when Chief Uche Nwosu of Action Alliance Party who came second at the last Imo guber election according to the result declared by INEC, was disqualified via court as not a valid contestant in the election, this they believe was deliberate in clearing the ground for Hope Uzodinma who came fourth in the election to be declared winner.
Hope Uzodinma from explanations from the judgement won the election  on the ground that votes meant for him from 388 polling units were not added to his total votes in the main election, the supreme court then saw merit in Uzodimma's case and added votes from the 388 polling units earlier not added ,making him garner more votes than Emeka, and  thereby came to a unanimous judgement that he is the rightful winner of the election all the seven judges towed same line of judgement.
Mbaka's Prophecy a political gimmick to test the waters?
So with the above explanation they believe that Mbaka's prophecy was a political ploy to test the waters to gauge the extremities of peoples reaction over such a judgement and also to psychologically prepare Imo people for the bombshell and help them to welcome the judgement and spiritually receive the outcome as a will of God and turn away from the options of protest and violence.
Mbaka's Other Prophetic Gambles
Some also pointed out that in the priests new year prophetic message of January 2018 father Mbaka warned president Buhari not to contest in the 2019 election as he would be utterly disgraced, a prophecy that didn't go down well with supporters of the president who went on rampage on line some of the messages from their reactions were published on daily trust website on this url
Also in October 2018, the priest revealed that Atiku will defeat President Buhari in the 2019 presidential election. He however warned the PDP presidential candidate not to behave like Buhari when he gets to office.
https://www.independent.ng/rev-fr-ejike-mbaka-endorses-atiku-says-buhari-stubborn/.
 Validity of Prophecy.
We have heard so many times when pastors participate in Nigerias election with the proclamation that God sent them to come and fix the nation and when the result of the election comes out they are found in un-favourable positions nevertheless declaration of prophecy or pastors and priest claiming the ability to hear directly from God is rampant but also valid from the accounts of such in the bible,and physical manifestation of some of their prophecies and miracles , the act of Prophesying   is also a fundamental practice in the ancient time and also in the modern practice of Christianity as even today most Christians prefers to worship with the men of God who has the gift of vision and extra ordinary discernment who can make miracles via powerful declarations so there is no doubt that a lot of God's men in Christianity and of course other religions has the gift of foretelling the future but Mbaka's latest prophecy has not been well received by PDP sympathizers in Nigeria and Imo State at large.