CHILD suicides are on the rise in Iran, the government conceded today after an 11-year-old student took his own life because he did not own a smartphone, preventing him from taking part in online classes.
Mohammad Moussavi was found dead in the kitchen at his home in Dayyer, south-west Iran, by his mother on her return from shopping last weekend.
Mohammad, and two other students who could not afford a smartphone, had reportedly been promised them by the school principal to enable them to take part in classes via an app connecting teachers and pupils.
"He was in the fifth grade and always had good results," Mohammad's mother said. "He wanted a smartphone to connect to his teacher during online classes.
"We only had one phone, which did not work properly. He could not take videos or send voice messages.
"I clean people's homes and we have a hard time making a living. We get along with the help of our relatives.
"I was working to buy him a smartphone. He told me he would work himself, once he got older. He needed a smartphone or tablet so he wouldn't fall behind in classes, but I could not afford it."
Some 3.5 million children in Iran are unable to use the online learning app because they lack an internet connection or a smartphone, the Ministry of Education reported last month.
Local education officials denied that Mohammad Moussavi had committed suicide due to a lack of necessary equipment, and insisted that the school principal had given him a smartphone.
His mother dismissed the claims: "His grief caused him to kill himself," she said.
The case has caused a public outcry, leading the clerical regime to threaten those who try to use it to damage the government that they would be dealt with "decisively and in a judiial manner."
The government has nonetheless been forced to admit that there has been a sharp rise in child and adult suicides due to poverty as the country's economic crisis deepens.
In Bijar, in the country's west, local people reported that student Soroush Rezaie took his own life because he could not afford a smartphone in order to continue his education.
And a 12-year-old schoolboy in Abadan, south-west Iran, reportedly also took his own life when his mother sold his bicycle and smartphone to pay the rent.
"It would seem as though the suicide rate is increasing in the country," Deputy Minister for Sport and Youth Mohammad Mehdi Tondgouyan told the Borna news agency, ackowledging that there had been a spate of suicides this year of children under 15.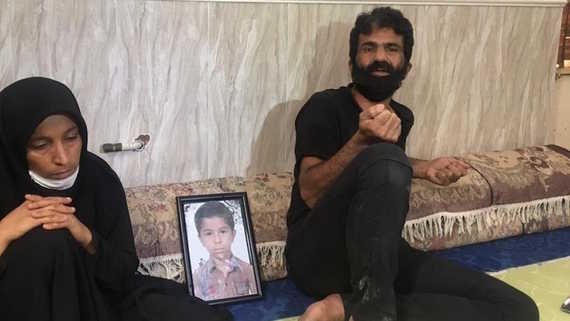 Source:morningstaronline.co.uk