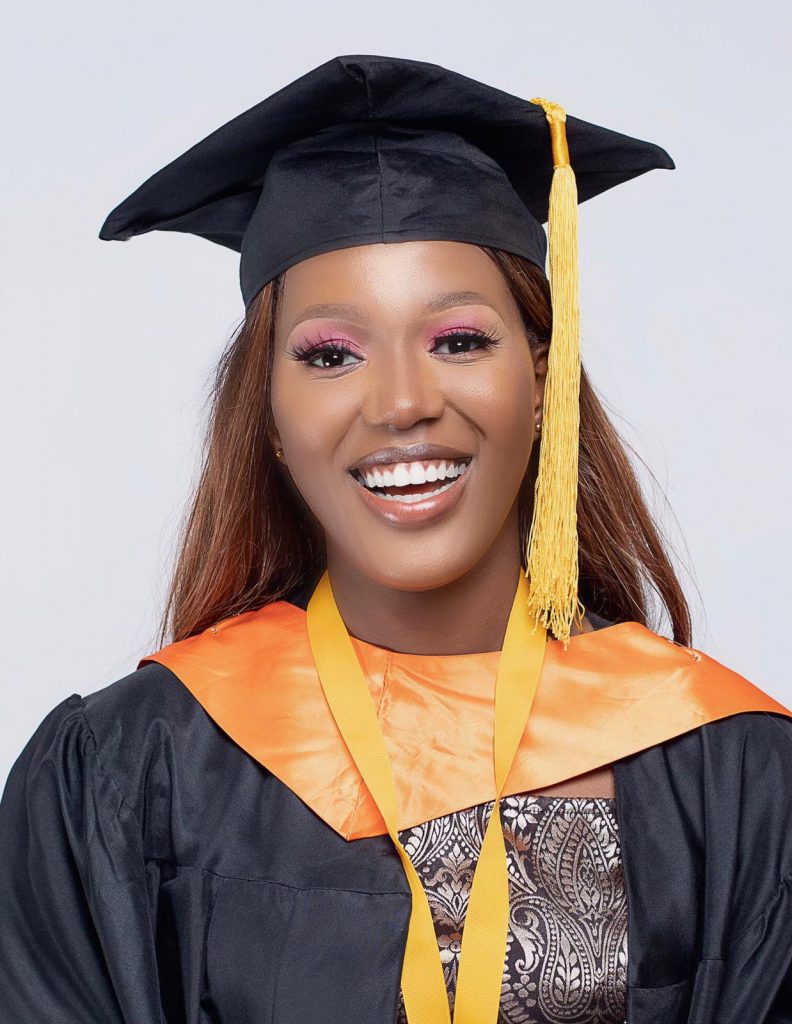 Heroes are ordinary people that are just driven by extraordinary determination, when Jazmine Ngaji from Njikoka LGA, Anambra state started her dream for a tertiary education certificate, she didn't know it will end gloriously especially with the difficult beginning that she had to contend with in 2014 but yet she emerged Overall best graduating student in All Nations University Ghana.
Jasmine wanted to become a medical doctor, she wrote Jamb thrice and failed to meet up with the cut off mark which is always between 250 to 270, the last attempt she got 160, if she had made 180 in her jamb, she would have had an opportunity of getting to her dream of studying medicine via prescience, which she fears she might still be struggling with by now with the incessant academic strike that has beleaguered Nigeria's education system in recent times
But none of those deterred her from having a positive perspective on life, she didn't get discouraged from always having to try and give her all always, during her time in Nnamdi Azikiwe University Awka ,she emerged among the top 10 in her prescience class, then destiny knocked on her door one day ,her friend told her of an opportunity to study Medical Laboratory Science in a school that he had graduated from in Ghana, the All Nations University.
All Nations University Koforidua in the Eastern Region of Ghana is one of the renowned Ivy League schools in Ghana, known for its high grading system when it comes to examination scores, she opted for MedLab because it's related to health ,therefore close to her life long dream of professionalizing in that sector.
"When I first got to Ghana, the discrimination I suffered at the hands of a landlord spurred me into making sure to make a difference and change the perception of some Ghanaians that see Nigerians as bad people and show that its isn't so. I was worried that being a Nigerian would be a challenge to me surviving here"
So In my effort to change the narrative, I had to study very hard and be committed to ensuring that I make a difference, I joined the student's union body in my school, and joined the National Association of Nigerian students (NANS), I became the woman commissioner of( NANS) and moved to SRC President and then got a scholarship, all these positive moves contributed one way or the other in my becoming the overall best graduating student in the school.
Her Study plan.
"My Note Book are always updated, really detailed, I always ensured that my notebook is up to date and not missing any vital information during lecture ,skipping class was pivotal in this my success. During examination if you walk into the class you will see many people reading photocopies of my note book." She explained
"And then getting close to exams like 2 or 3 weeks to the exam I draw a time table and give myself 2 days for each course, and I start from the most easy course to the toughest, I have a jotter for all my subjects , during the exam itself I read any course that is coming up the next day again as a refresher, this sharpens my memory" she reiterated
Social life
Jasmine unintentionally avoided drama of all sorts by not keeping female friends , she is more comfortable around guys than members of her gender, in her own words "Most of my friends are guys, I am not the outgoing person , my friends are totally different from me, I am social person but I don't like going out, regardless of our diverse social interest ,we all want to achieve great things and are always happy when one of us do accomplish something." She explained.
Outside classes her main social activities were the student union activities and then occasionally hanging out with her friends which she did sparingly as she is most comfortable in her home.
Bad habits of Jasmine
"I always seek for myself in others, because I always want people to do things the way I would want it done, I like my things being the way I kept them, but it has not been easy trying to get people to fit into my expectations of them, so am slowly getting to realize that there is need for people to be different and the need to understand their need to be themselves.'' She explained
Relationship and dating
''I had interest from Guys but I told myself from the onset that I won't date till my final year,I dated briefly during my final year but I didn't allow it affect my academics." She Concluded
So here we have it undergraduates, the blueprint to becoming the best overall graduating student in your school is all about self belief, commitment to your education, and that amazing study plan, goodluck.