Tragedy struck the entire Isu Constituency on Tuesday 22nd November 2022 as one of the pillars of Umudiojiaku Ndiuhu Community in Imo State, Chief Donatus Osakwe Olu Oma 1 of Amurie Omanze was snatched away by cold hands of death in Abuja.
Hon. Modestus Abiazie Osakwe one of the sons of the late statesman communicated the heart wrenching news to Better Life for Isu Campaign Support Group, via a communiqué issued on behalf of the family.
"This is to officially announce the passing on of our father. Chief Donatus Mmadu Osakwe ,who was called to eternal glory in Abuja on Tuesday 22nd November 2022 after a protracted illness. The burial arrangement will be communicated by the family in due course" the message signed by Prof. Chima Osakwe (son) for the Family reads.
Since then it has been a sombre mood in Umudiojiaku Ndiuhu Community and Isu at large over the passing away of the illustrious community elder and leader .
Better Lifers stuck in mood of mourning ,has sent in droves their messages of condolence to Hon.Modestus Abiazie Osakwe over this sudden loss of his father and re-affirming their continuous support to him , his vision and dream for Isu State Constituency especially at this time of tragedy.
"What a sad news! I am deeply saddened by the loss of your beloved father. He will be truly missed, my deepest condolences to the entire Osakwe family. May the soul of Chief Olu oma through the mercy of God rest in peace… Amen.- Amaechi Chikezie Chrisantus wrote.
"Shocking ! Disbelief !! Devastating !!! Great Man who loved his fellow human being, a Peace Maker. Mode, please take heart. Be consoled by the fact that he lived a good life on earth. May The Almighty God Grant his soul Merciful judgment'' Chief Nnamdi Nsorom, (PhD) sent to the Osakwe's.
"Oh my God !May his gentle soul rest in peace Amen. My condolences-Engr Nego affirmed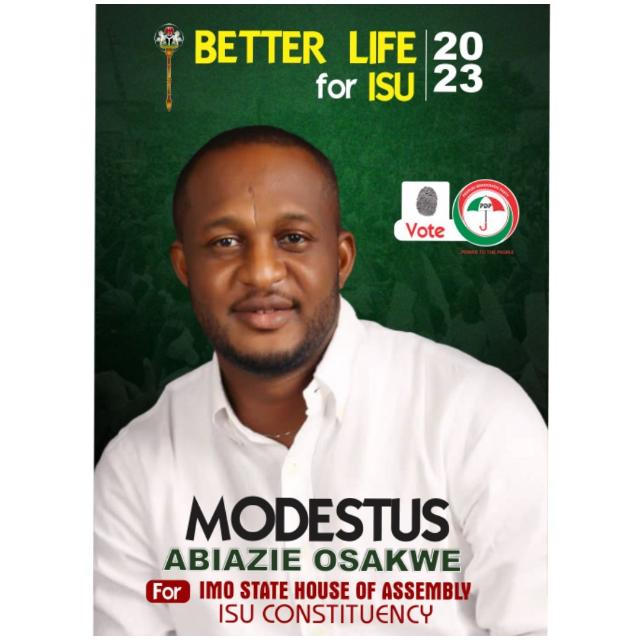 "I wished Ezinna stayed more. Well, we cannot question the act of God who is Omniscient. Untill his death, Ezinna was a revered Christian Father, a peacemaker, wise counselor, a true philanthropist, a firm proponent of equality of all men. We'll miss him so dearly. I enjoin the Osakwe's to take heed in the Lord and in the positive footprints he left behind as I pray God to grant them all the strength of the mind to bear the irreparable loss with great courage … Accept my heartfelt condolences!" Comrade Charles Chukwu & Family condoled with the Osakwe's
"May the soul of Chief DMO(Oluoma 1) rest in perfect peace with the Lord Amen" Franklin Nwachukwu sympathized to the Family.
"Chief Oluoma of Amurie Omanze is gone to be seen no more!! Cheeeiii, just like that? Oh , I am highly devastated with this heart breaking news. Daddy, oh my God, tears are rolling uncontrollably and l lack words to express my feelings right now… Daddy, I was thinking of the day, we all would stay to eat and jubilate over your son's victory!!; I was thinking of so many things and I am still thinking but wicked death has shattered my trends of thought, what a wicked world!! Hon Mode and siblings , please take heart . " Eziama Florence lamented.
''Indeed it's a sad news to the Better Life family and to the rest of Ndi Isu… I'm believing that Chief Donatus Mmadu Osakwe is gently sleeping because he lived a life of accomplishments and verily deserves some posthumous accolades… REST IN PEACE Chief. To the Osakwe's, remain strong and focused on course" Cmr. Emerenini Ndubuisi (Ide) commiserated with the family.
The fruit don't fall too far from the tree they say , critics are silenced ,as evidence of the source of Hon. Modestus Osakwe's good heart is there for everyone to see in the exemplary life that his father lived.
The depth of feeling of grief and mourning that has encapsulated the friends, well wishers and the entire Umudiojiaku Ndiuhu Community, affirms that late Chief Donatus Osakwe lived considerably for the welfare of others in his community, as well as for those that had come across his path in his lofty journey on earth.
His death has created a leadership void of sort, as everyone is in a sad agreement that Umudiojiaku Ndiuhu Community and Isu State constituency indeed have lost a gem.