The Child Development Department of the Ministry of Women Affairs Nigeria will be conducting a national election to choose the next Speaker of the Nigeria Children's Parliament on the 13th of December 2022 at Sandralia Hotel Utako Abuja Nigeria.
The Minister of Women Affairs, Her Excellency Dame Pauline K Tallen is expected to grace the election and inauguration of the 7th National Children's Parliament .which is being organised by the Federal Ministry of Women Affairs in collaboration with Save The Children International.
Children from about 24 states in the nation are expected to participate in the process, as a boy and a girl are invited from the States across the nation that has operational children parliament offices.
The new Speaker of the Parliament will emerge from an election process that will involve the participation of members of the children's parliament in the state chapters of the parliament who are invited to Abuja from their respective States .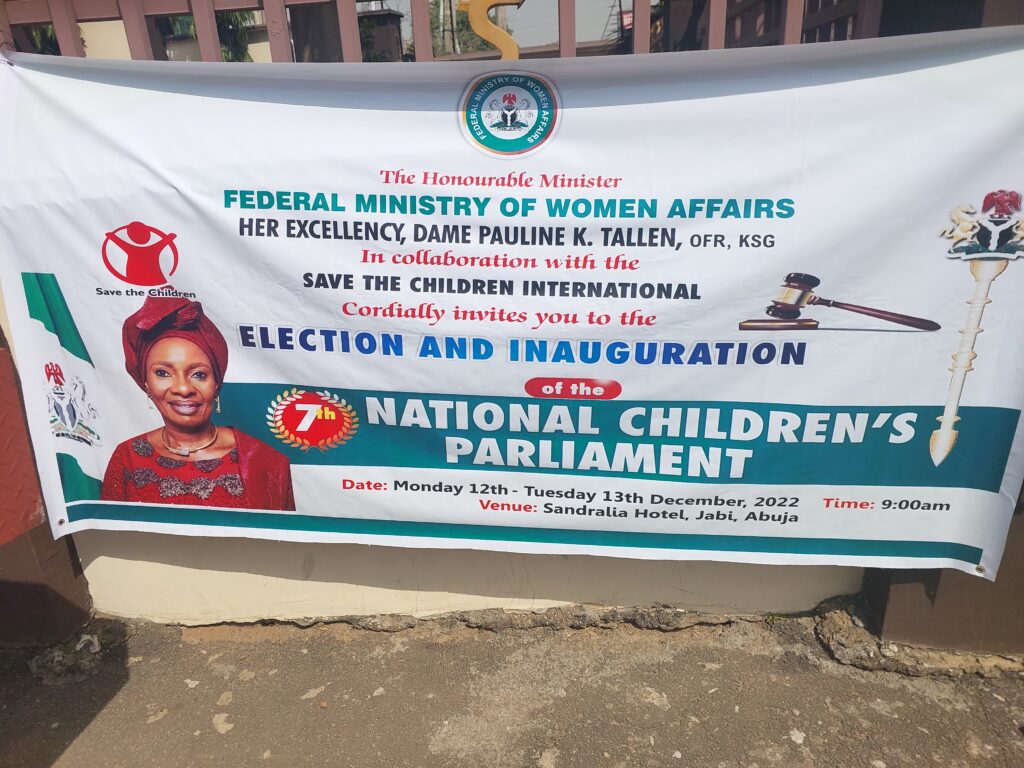 Aside the position of the Speaker of the Parliament ,other principal officers who will assume other important positions will also be elected on the day to assist the office of the Speaker , which includes a Deputy Speaker, the House Leader, the Deputy House Leader, the Chief Whip, the Deputy Chief Whip, the Clerk of the Parliament, the Deputy Clerk, Sergeant Arms who shall be the mace bearer and assistant mace bearer.
Eligibility for any of the aforementioned position is only for children between the ages of 10 and 18 , who are Nigerians by birth and are known to be of good conduct at home ,school and in the community, they shall also submit letter of recommendation from their schools and letter of consent from their guardian as well as fill an electoral form to be able to participate in the process.
About 9 standing committees will be constituted to enhance the operability of the Nigeria Children's Parliament which includes Committee on Child Survival, Committee on Child Development, Child Protection, Child Participation, Information and National Orientation, Committee on Ethics ,Rules and Business, Committee on Water, Sanitation and Hygiene, Committee on Child Justice and Rule of Law and Committee on Education.
The Nigeria Child Parliament is constituted to work in peace and harmony with its stakeholders for the purpose of promoting the right of children to survival, protection, development and participation towards the democratic advancement of the country.