June 16th 2023 will ever remain memorable in the life of Hon. Modestus Osakwe for its symbolism of great lost and great triumph. It is an ultimate day of mixed feelings not just for him and his siblings but the entire Amurie Omanze and Isu at large as they started it with his Inauguration as member representing Isu State Constituency at the Imo House of Assembly and ended it with the  funeral of his late father Chief Donatus Mmaduaghaonye Osakwe  who was laid to rest same day, hours apart.
Ndi Amurie Omanze were caught up in the conflicting emotions as they could not escape the quandary of being locked up in the entwined moments of joy and pain that the day ushered into their lives and Isu at large.
As already planned the body of Chief Osakwe left Aladinma Mortuary, Owerri,  had a brief stop at the palace of HRH Eze C.O Nnajiemere (Ezeudo 11 of Amurie Omanze) The funeral mass was held at Saint Teresa's Catholic Church, Amurie Omanze, with the community coming together to celebrate Chief Osakwe's life and bid him a final farewell.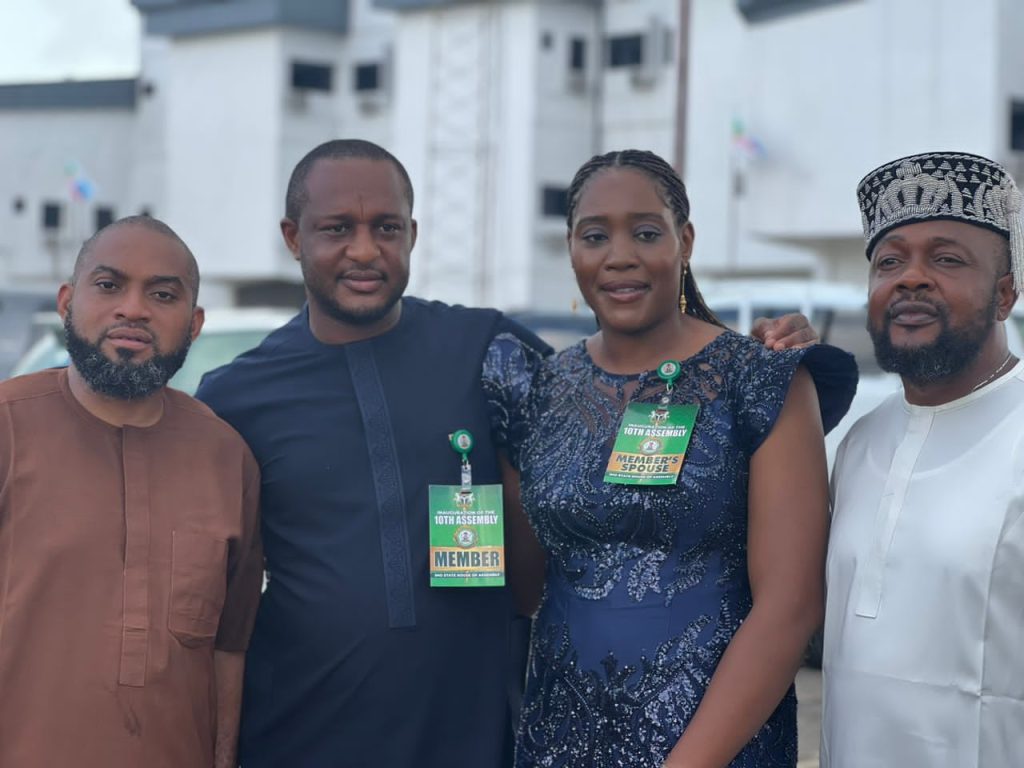 The church was filled with a sense of solemnity and reverence as prayers and hymns filled the air, honoring his life and legacy. The body of  late Chief Osakwe  was taken to the family country home   in Amurie Omanze, where a lying-in-state was held. Mourners had the opportunity to pay their final respects to the departed leader.
Following the mass, the interment took place ,as Chief Osakwe was laid to rest in a peaceful ceremony. Umudiojiaku Ndiuhu Community in Imo State came together  to bid farewell to their beloved leader, Chief Donatus Osakwe, Olu Oma 1 of Amurie Omanze. The passing of this illustrious community elder  left a somber mood enveloping the entire Isu Constituency. The outpouring of condolences and heartfelt messages from friends, well-wishers, and the community at large stands as a testament to the remarkable impact Chief Osakwe had on the lives of those around him.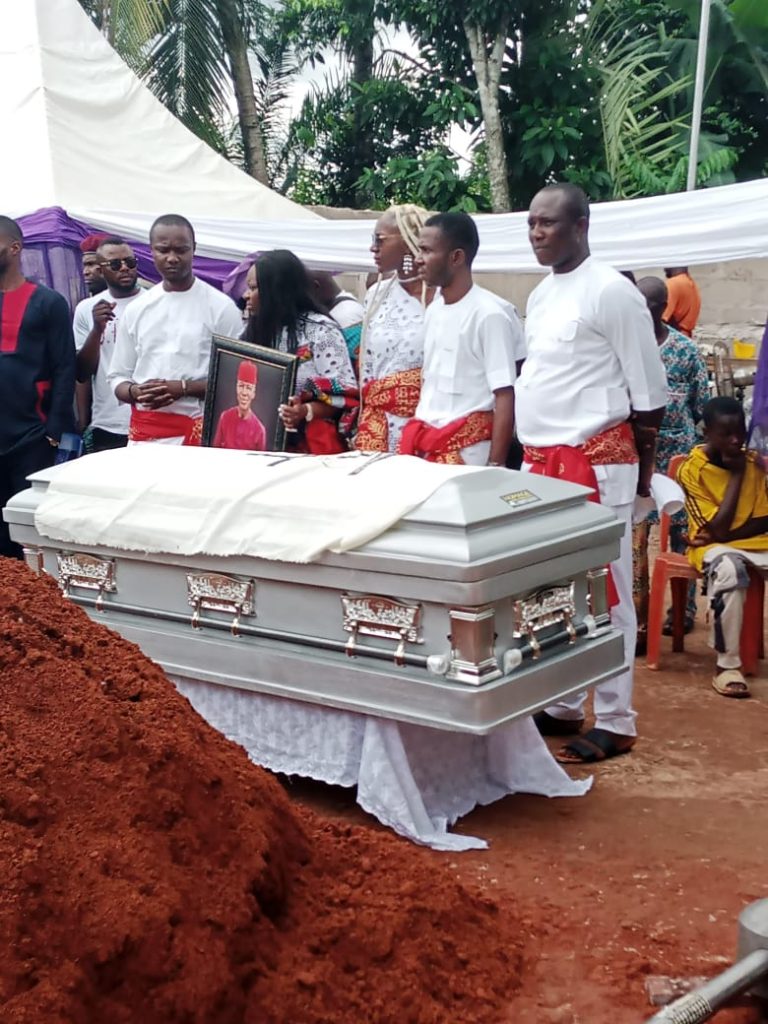 The gathering witnessed a mixture of tears and fond memories as family members, friends, and community members gathered around the graveside to pay their final respects and bid a heartfelt goodbye. The immense impact of Chief Osakwe's leadership and his commitment to the welfare of his people were evident in the overwhelming number of people who came to pay their respects and offer their condolences.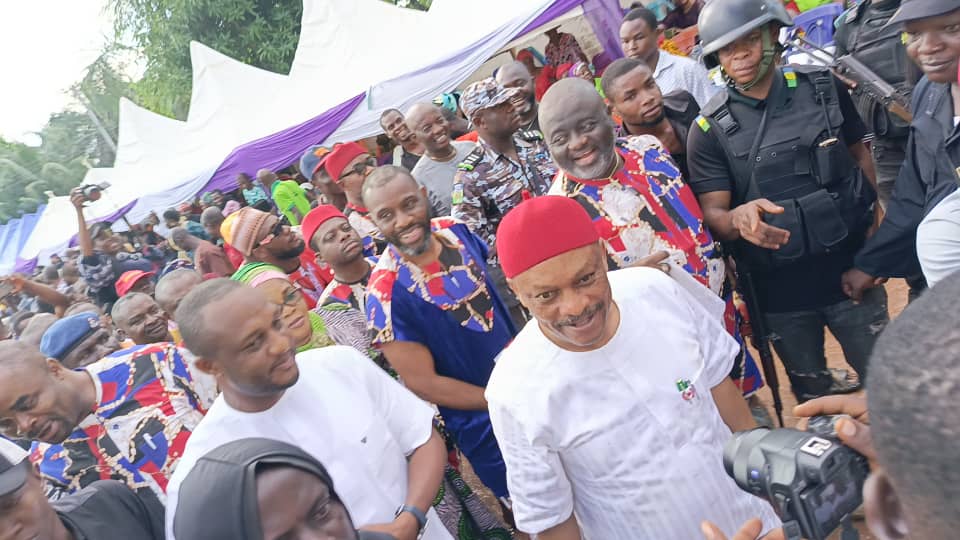 There is no doubt that late Chief Donatus Osakwe's  contributions to the community and his commitment to the welfare of his people will always be remembered. As the community moves forward, they will draw strength and inspiration from the teachings and values Chief Osakwe embodied.
Hon. Modestus  and the  entire  Osakwe family  displayed tremendous strength and resilience throughout this difficult period, and they have been supported by an entire community in mourning. The overwhelming messages of sympathy and confidence on his leadership ability reaffirmed Ndi Isu's  continuous support for Hon. Modestus  Osakwe and his vision for the Isu State Constituency, especially during this time of tragedy.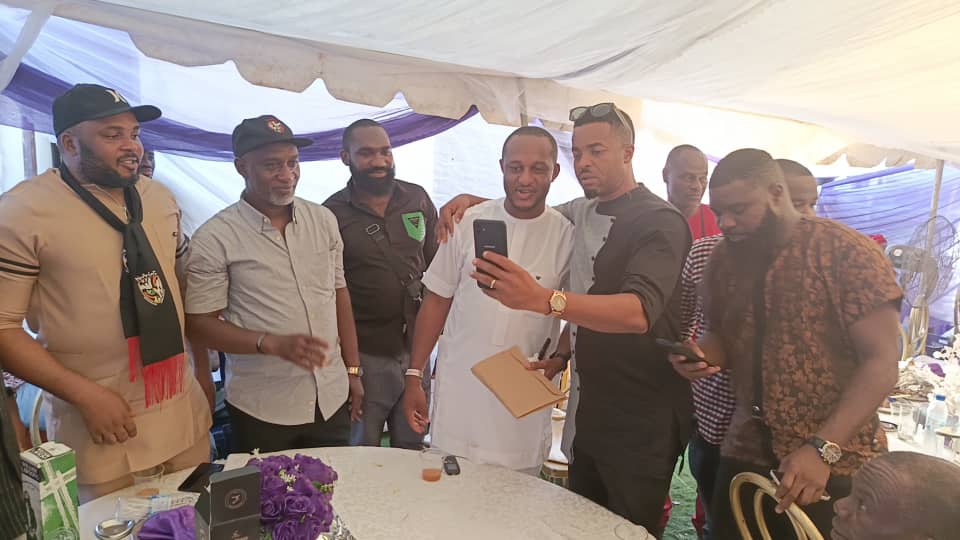 Notable dignitaries that graced the funeral were; The Guber Candidate of PDP; Senator Samuel Anyanwu, Deputy Candidate of Imo PDP, Rt. Hon. Jones Onyereri, Chief Sir. Martins Ejiogu, Rt. Hon. Ugonna Ozuruigbo, Hon. (Nze) Ray Emeana, Hon. Chiwuba Nnaji, Rt. Hon. Ngozi Obiefule, Mr. Collins Opurozor, Barr. Igbokwe, Hon. Meekam Mgbenwelu, HRH Eze C.O Nnajiemere, HRH Eze Vincent Ahamefule (Duruoha), Chief Camilus Amajioyi, Hon. Austin Ezeigbo, Dr. Johnbosco Mkpadobi, Evang. Mike Ikeoku, Hon. Sam Okoli, Hon. Engr. Ozioma Worship, Hon. Ifeanyi Nwadikwa, Sir. Pius Obilor, (CEO Panbose), Hon. Sixtus Nsorom, Barr. Onyinye Obiaju, Chief Chinedu Ajonuma, Nze Obinna Madu, Chief Philip Emenu, Chief Andrew Igboji, Nze Samuel Igboji, Chief Chinedu Iwuagwu, Chief Obioma Lemoha, Mr. Paschal Nsorom, Hon. Innocent Onwuemenyi, Engr. Paschal Ubaji, Hon. Ngozi Ogbu, Arch. Chinonso Nnaji, amongst others too numerous to mention.
Chief Donatus Mmaduaghaonye Osakwe until his death, was a devoted Christian, Opinion moulder, philanthropist and an advocate of Peace. His peace loving nature earned him the revered Chieftaincy Tittle; Chief Oluoma (good voice) 1 of Amurie and Nnaoma di Ebube Tittle in the Catholic Church.
He is survived by wife, Children (Five Sons and four daughters) and grandchildren.
On Sunday, June 18, 2023, a thanksgiving mass will be held at Saint Teresa's Catholic Church, Amurie Omanze, to commemorate Chief Osakwe's life and legacy. The community will gather once again to celebrate the remarkable contributions of their departed leader and give thanks for the time they had with him.