By Grace Chigbu
OWERRI, Nigeria – In an effort to promote sustainable resolutions for societal conflicts, Kegites Club International, Imo Hemispheral Council, organized a week-long event under the theme "Societal Conflicts Management: Issues and Options for Sustainable Resolutions." The event, held at various locations in Owerri, brought together academics, professionals, and community members to discuss crucial issues and celebrate African culture and heritage.
The event commenced with a Thanksgiving mass at the Maria Assumpta Cathedral Church, Owerri, where members of the club expressed gratitude for the blessings received and prayed for peace and harmony in society. Led by Prof. Sunday Dialoke of Federal University of Technology, Owerri, and joined by Dr. Jude Nwakanma of Alvan Ikoku Federal College of Education, Owerri, and Dr. Prince Ikenda Amaehule, lecturer at the University of Port Harcourt, the service set a positive tone for the week's activities.
The commitment to the well-being of the community was evident as the club organized a two-day free eye medical outreach for members of the Nigeria Police, Imo State Command. With the aim of providing essential healthcare services to those who serve and protect, the medical outreach was executed successfully, helping numerous officers with eye-related concerns. This initiative showcased the club's dedication to promoting the welfare of the community.
Adding a compassionate touch to the event, members of the club paid a visit to an orphanage, spreading joy and goodwill among the young residents. The visitation demonstrated the club's commitment to uplifting the less fortunate and reinforcing the importance of empathy and social responsibility in society.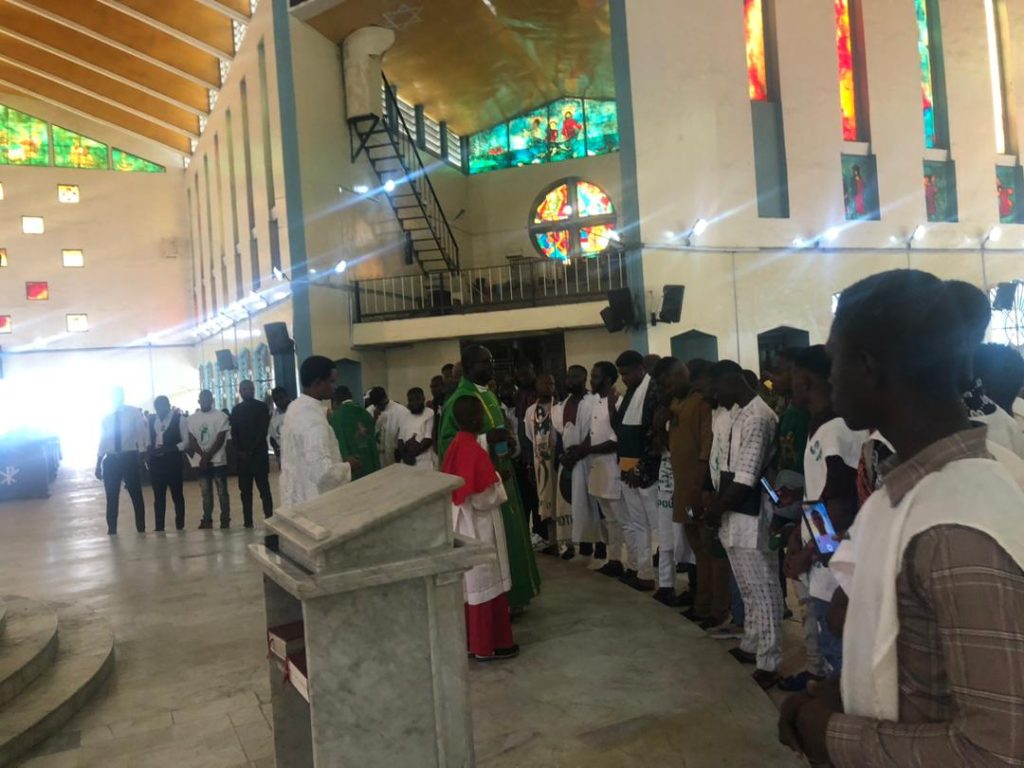 The highlight of the week was the public lecture and carnival held at the prestigious Rockview Hotels Owerri. Engr. Chidi Elendu, also known as Chief Sharp Brain of Ilya du Futo, expertly anchored the event. Distinguished guests, including Chief Chioma M. Orjiako, PhD, GCON, Chairman of Kegites Club International, Imo Hemispheral Council, graced the occasion. The lecture delved into the complexities of societal conflicts, exploring viable options for sustainable resolutions, and emphasizing the need for collective efforts in fostering peaceful coexistence.
The carnival, an annual celebration of Kegites Club International, Imo Hemispheral Council, showcased the richness of African culture and heritage. Drawing people from all walks of life, the event brought together various communities and fostered cultural exchange. Besides its cultural significance, the carnival also proved to be an economic boost for the region, attracting visitors who contributed to local businesses, further promoting economic growth.
Commenting on the impact of the event, Engr. Chidi Elendu said, "The World Gyration is not just a celebration of our cultural heritage; it is a testament to the unity and strength of our community. It fosters a sense of belonging and pride in our shared identity, while also promoting understanding and respect for others."
The roll call of the high and mighty in the society that graced the event includes  Chief Chioma M. Orjiako, PhD, GCON, Chief Samuel Okoro Agwu, Chief Ignatius Owums, Chief Dr. Emma Nwosu, Chief Dr. Goddy Mbagwu,Chief Engr. Chidi Elendu, Chief Chukwuemeka Egwuatu, Chief Isidore Isotonu
The Chairman, Anambra/Enugu/Ebonyi Hemispheral Council, The Chairman, Abia Hemispheral Council The Chairman, Ogun Hemispheral Council, The Chairman, Waters Hemispheral Council The Chairman, Akwa Ibom Hemispheral Council, Chief Uchenna Nnamani, Chief Nnabuife Collins ,Chief Barr. Chiemezie Ezikeojiaku, Chief Bawa Nzeagwu,Chief Obiyo Oparaku, LSF Surv. CAP Anele, LSF. Dr. Jude Nwakanma, LSF Ice Water,Chief Chijioke Ezeji (Jogodo), Chief Kingsley Eze Mmuo, Chief Dr. Kingsley Ibe
AB Chief – Il ya du lake (Imo State University, Owerri),AB Chief – Il ya du FUTO (Federal University of Technology Owerri), AB Chief – Ilya du Polynaked ( Federal Polytechnic Nekede, Owerri) AB Chief – Il ya du Ice (Alvan Ikoku Federal College of Education, Owerri) AB Chief – Il ya Ehime (Imo State Polytechnic Omuma, Mbano Campus) Ab Chief – Il ya Soil ( Federal College of Land Resources and Technology, Oforolla) AB Chief – Il ya du Etiti (Ben Uwajumogu College of Education Ihitte Uboma), AB Chief, Il ya Umuagwo, (Imo State University of Agriculture and Environmental sciences, Umuagwo),Chief Bola Atiba
Chief Fire 4 Fire, Chief Ben Nwokorie, (Ahuonu),Chief Nnaemeka Ugochukwu (Adult),Chief Fred, Chief Ressurector,LSF Cowboy,Chief Chima Ekeocha, His Worship, Emperor Iwuala, Prince Kingsley Anyiam and a host of others
Overall, the weeklong event organized by Kegites Club International, Imo Hemispheral Council, proved to be a remarkable initiative, addressing societal conflicts, promoting cultural heritage, and advancing regional development. As the event concluded, participants departed with a renewed sense of unity and purpose, reaffirming their commitment to building a harmonious society for the betterment of all.
The refreshment at during the event was top notch as renowned Chili Pepper restaurant and Bar at SPIBAT road Amakohia layout was in charge of food, they spiced up the occasion with delicacies ranging from Fried, Jollof, white rice n stew, Ox tail pepper soup, fufu and different kinds of soups. Indomie noodles and Hero Beer Company supplemented the cuisine with variant spiced noodles and Hero Beer did their part in satiating thirst.
The success of this event stands as a testament to the power of collective action and the significance of preserving and promoting cultural heritage for a brighter future. As Kegites Club International, Imo Hemispheral Council, continues its unwavering dedication to societal well-being, it leaves a lasting impact on the community and inspires others to contribute positively to the world around them.