Congratulatory Message from Hon. Okey Mba to Gov. Peter Mbah of Enugu State
Your Excellency, human developmental indices are often orchestrated by certain paradigms of innovations. "100 days in office" is one of such innovations coined to add incremental consciousness to leaders who superintend and manage man and materials within the public domain. It is an aperture to examine what has been done, why it was done and to determine the next steps in furtherance or abdication, for a new measure. Today, we stand tall to salute the man who saw the value of tomorrow in human existentiality and governance, His Excellency, Dr Peter Ndubuisi Mbah, the Governor of Enugu State, as he marks his 100 days in office.
On behalf of my family and my constituency, the good people of Nkanu East Local Government Area, I, Hon. Okechukwu Anthony Mbah, Member representing Nkanu East Constituency in Enugu State House of Assembly, do hereby proudly identify with our brother and son, who is making us proud as the Governor of Enugu State. Indeed tomorrow is not just here but visibly here. I want to salute your courage of matching your words with actions in this 100 days in office. It is my singular honour and privilege to commend you strongly for not just the exponential or humongous decentralization of development apparatus in Enugu State but the consistency, resiliency, frugality, transparency and inclusiveness inherent in the actualization.
Your irresistible courage of development spurred you to dare and wrestle with the hitherto pitiable condition of the Ndi Enugu occasioned by the forced illegal SIT AT HOME on Mondays as perpetrated by some faceless individuals. You abolished it and deployed every machinery to demystify the unfounded belief that it is impossible to stop, Okwute Ndi Igbo, I salute you. Today in Enugu state, Mondays have returned alive as everyone and businesses are struggling in the ever competitive nature to survive.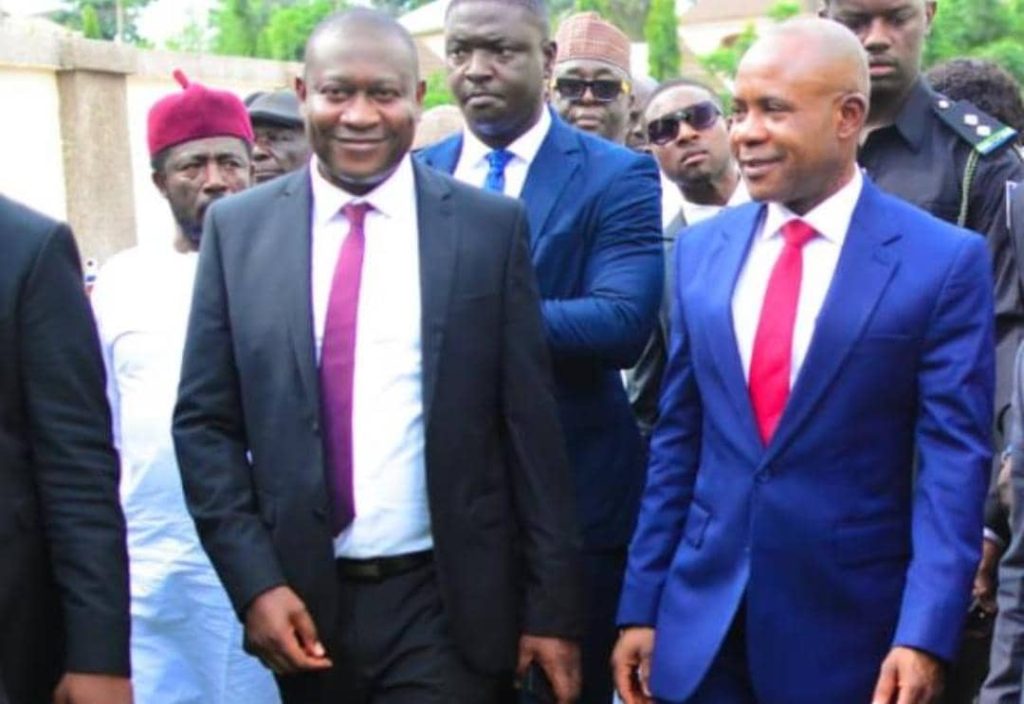 In this 100 days,Your Excellency, you have mapped out good numbers of projects through which Ndi Enugu shall found succour and enjoy the benefits of the social contract entered in electing you as their Governor. You have also designed clear paths and means of actualizing them.
You have commenced and continued actions on provisions of facilities for security in Enugu State; clearing of dirt and reinforcement with provision of more vehicles; articulated networks of roads and maintenance of existing roads; boosting of agricultural activities and provision of mechanized implements with commercial agro- allied activities; partnering with international donor agencies and captains of industries to rejig and revolutionize Enugu State from civil service state to a commercial economic hub of the east; and your resilience in actualizing the 180 days total water provisions in all nooks and crannies of Enugu State are evidence before us. Indeed, my constituency and the peace loving people of Enugu State are happy to have you as our Governor.
As a legislator and your representative, be assured that I shall use every available legislative tool in utilizing the mandate of my constituency to support your administration for better Enugu State. Congratulations in your epoch making and achievement focused in this past 100 days in office and beyond.
Hon Anthony Okechukwu Mbah
Member, Representing Nkanu East Constituency
Deputy Minority Whip Enugu State House of Assembly