By Grace Chigbu
AKURE, ONDO STATE – The Ondo State governor, Oluwarotimi Akeredolu, and the Chairman of the Independent Corrupt Practices and Other Related Offences Commission (ICPC), Bolaji Owasanoye, joined forces in Akure to address a critical concern: the peril of corruption, a formidable obstacle to Nigeria's socio-economic growth, public trust, and the rule of law.
This proclamation was made during the official commissioning of the ICPC's prototype state office in Akure, Ondo State.
Governor Akeredolu, represented by the Secretary to the State Government, Catherine Oladunni Odu, underscored the urgent need for a united front between the Federal Government and sub-national entities to combat corruption's rampant influence across every sector of the nation's economy. Akeredolu stressed, "Corruption has deeply penetrated the very fabric of our national life, necessitating collective efforts to curtail its proliferation. There is no denying that corruption remains a pervasive malaise in Nigeria, eroding public trust in our institutions, obstructing adherence to the rule of law, and constraining socio-economic and political progress."
The Chairman of the ICPC, Bolaji Owasanoye, shared Governor Akeredolu's concerns, emphasizing that corruption poses a significant impediment to the socio-economic growth and development of any nation. Beyond the internal consequences, Owasanoye highlighted the damage it inflicts on Nigeria's global reputation, making it challenging to attract Foreign Direct Investments and adversely affecting national security.
The newly commissioned anti-graft agency's prototype state office, situated at GRA Block A, Plot 3C Oda Road, Akure, is a one-storey facility equipped to tackle corruption effectively. It includes two conference rooms, staff offices, interview rooms, detention facilities, a library, and a storage area.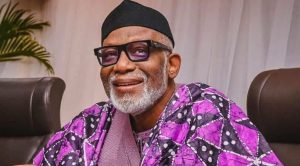 The launch of this state-of-the-art facility marks a crucial step towards bolstering the fight against corruption in Nigeria, a pervasive issue that hinders progress and prosperity at various levels of society. The recognition of this challenge by Governor Akeredolu and ICPC Chairman Owasanoye is a testament to the determination to root out corruption and its adverse effects on the nation's socio-economic growth, public trust, and the rule of law. The commissioning of the ICPC's prototype state office underscores a commitment to a more transparent and accountable future for Nigeria.