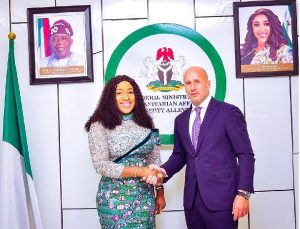 By Grace Chigbu, Abuja November 1, 2023
In a generous display of international solidarity, the Canadian Government has pledged $18 million to support humanitarian and poverty alleviation efforts in Nigeria. The announcement was made by the Canadian High Commissioner to Nigeria, Jamie Christoff, during his visit to the Minister of Humanitarian Affairs and Poverty Alleviation, Dr. Betta Edu, in Abuja.
Christoff revealed that the Canadian Government has committed a substantial $150 million to support various programs in Nigeria, with a portion of these funds designated for humanitarian responses. These resources are aimed at addressing the pressing needs of vulnerable women and young girls across the country.
Dr. Betta Edu's media aide, Rasheed Zubair, released a statement yesterday, confirming the Canadian commitment to the cause of alleviating poverty and addressing humanitarian crises in Nigeria.
Christoff also commended the establishment of the Humanitarian and Poverty Alleviation Trust Fund, recognizing its importance in facilitating coordinated efforts between the government and international partners.
He stated, "I am here with my team to register our support to the mandate of the President in his efforts to alleviate poverty and reduce humanitarian crises in Nigeria through your ministry."
In response, Dr. Edu expressed her gratitude for the Canadian Government's support and assured Christoff of a mutually beneficial working relationship. She emphasized President Bola Tinubu's commitment to eradicating multi-dimensional poverty and humanitarian crises in Nigeria by 2030, aligning with the Sustainable Development Goals (SDGs).
Dr. Edu further pledged that the Humanitarian and Poverty Alleviation Trust Fund would be utilized to address emergency humanitarian responses and poverty alleviation issues in Nigeria. She emphasized that the implementation of these efforts would be transparent, ensuring accountability and effectiveness in achieving their goals.
This generous commitment from Canada represents a significant step towards addressing the pressing humanitarian needs in Nigeria and accelerating the country's progress toward achieving the SDG target of ending poverty and humanitarian crises by 2030.
While Canada's pledge brings hope for positive change, it's crucial for both nations to work together effectively to ensure that the funds are channeled towards impactful projects that make a difference in the lives of the most vulnerable in Nigeria. As the international community rallies behind Nigeria's efforts to combat poverty and humanitarian crises, it is a testament to the power of global cooperation in creating a better future for all.