*By Grace Chigbu*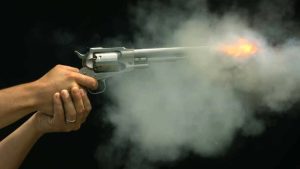 *03 November 2023*
Despite federal laws mandating hospitals to treat victims of gunshots with or without police involvement to save precious and innocent lives, there is an urgent need for the government to adopt stricter measures to ensure compliance, as incidents of non-compliance have led to untimely deaths. The surge in modern crimes such as "one-chance" robbery, ritual killings, kidnappings, rape, and various other crimes across the country is a growing concern. Fearless armed robbers, ritual killers, "one-chance" criminals, kidnappers, and others are prowling the nation, preying on unsuspecting victims.
Often, individuals fall victim to these criminals in the most unexpected ways. For instance, a young lady visiting her boyfriend in the morning could end up brutally murdered, her organs used for money-making rituals by evening. Similarly, a man attending a meeting in the morning might be kidnapped in the evening by lurking criminals.
Among these criminals, the most unsuspecting are the "one-chance" robbers who target vehicle passengers. They pose as fellow passengers in commercial vehicles, offering empty seats to unsuspecting travelers only to rob them and then forcefully eject them from the moving vehicle. Once again, Nigerian residents in Abuja, the nation's capital, live in fear of "one-chance" robbers. Greatness Olorunfemi, a community developer and member of the Young African Leaders Initiative Network (YALI), fell victim to these criminals on September 26, 2023. She was robbed of her belongings and pushed out of a fast-moving vehicle along the Maitama-Kubwa highway in Abuja. Tragically, after the incident, Olorunfemi was denied treatment at Maitama General Hospital for not providing a police report and subsequently died.
Olorunfemi's death has sparked public outrage and prompted the establishment of an investigative panel to unravel the circumstances surrounding her demise. The Senate has also demanded a thorough investigation into her death. Every effort must be made to ascertain the circumstances leading to Olorunfemi's death and to bring all those responsible to justice. Human life is sacred, and the right to life is guaranteed by our Constitution. Nigerian hospitals should prioritize saving human lives, not refusing treatment to victims of accidents, rape, robbery, gunshot wounds, and other crimes.
The tragic case of Bayo Ohu, a former staff of The Guardian Newspaper, remains etched in memory. Ohu was attacked by alleged hired assassins in his Lagos home in 2009 but did not die immediately. He lost his life after the hospital refused to treat him. Another heartbreaking case was the chairman of the Lagos State chapter of the National Union of Road Transport Workers, who was shot in his house. A nearby hospital refused to treat him, and he passed away on the way to a public hospital. Regrettably, there are many such cases, underscoring the needless loss of lives in the country due to hospitals rejecting patients in need of immediate medical attention.
This situation highlights the fact that life has become tragically cheap in Nigeria, and the value of human life is distressingly low. Authorities must intervene urgently to bring those responsible for the deaths of Olorunfemi and other victims of accidents, rape, robbery, gunshot wounds, and other crimes to justice.
In response to the pain and potential loss of accident victims due to the lack of police reports, the government enacted the Compulsory Treatment and Care for Victims of Gunshot Act in 2017. This legislation mandates hospitals to treat gunshot victims without the need for police clearance or an initial deposit. Hospitals are, however, obligated to report the case to the nearest police station within two hours of commencing treatment. Additionally, the National Health Act of 2014 emphasizes that healthcare providers cannot refuse emergency medical treatment to any person for any reason, and violators face fines and jail terms upon conviction. Successive Inspectors General of Police in Nigeria have also urged medical doctors to treat accident and gunshot victims without delay.
Olorunfemi's tragic death and the deaths of other victims of "one-chance" robbery, accidents, rape, robbery, gunshot wounds, and other crimes serve as a wakeup call for the police and security agencies to develop more effective crime-fighting strategies. This includes setting clear priorities, effective communication with the public, and decisive action to address security threats. The government should enhance its intelligence-gathering capabilities to better monitor criminal activities and organize public awareness campaigns and workshops to educate people about the risks of "one-chance" robberies.
Engaging police officers with the community through community vigilantes and neighborhood watch programs can help build trust and gather intelligence on criminal activities. Installing and maintaining a network of surveillance cameras in public transportation areas and known hotspots for "one-chance" robberies can aid in monitoring activities and identifying potential criminals. It is crucial to enforce the National Health Act of 2014 and the Compulsory Treatment and Care for Victims of Gunshot Act of 2017. Our challenge in Nigeria is not the absence of laws but the enforcement of existing ones.
Ultimately, political leaders, civil society organizations, and other stakeholders must collaborate to build consensus on the most effective ways to combat criminal activities. Dialogue, consultations, and engagement are essential in this effort to dislodge criminal elements from our society. The imperative is clear – every life matters, and the government and society must act decisively to protect and preserve the sanctity of human life.