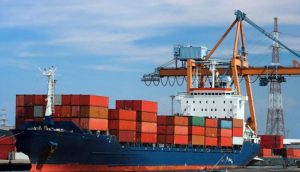 Lagos, Nigeria – In a resolute stand against what they deem as a surreptitious attempt to pass the Port and Harbour Bill through indirect means, the Maritime Workers Union of Nigeria (MWUN) and the Senior Staff Association of Statutory Corporations and Government-Owned Companies (Maritime branch) – SSASCGOC have voiced their opposition. The unions expressed their concerns during a press briefing held in Lagos yesterday, warning of the dire consequences such a bill could have on the nation's maritime sector.
The joint statement, co-signed by Comrades Adeyanju Adewale, President-General of MWUN, and Akin Bodunde, President of SSASCGOC, stated that the Port and Harbour Bill, which had been initially proposed by a member of the National Assembly, was thwarted from becoming law thanks to the collective efforts of well-meaning Nigerians, stakeholders, and the two in-house unions – MWUN and SSASCGOC, who have consistently opposed the bill.
The unions' statement highlighted the potential impact of the bill, emphasizing its potential to privatize harbor, jetty, and terminal operations. They expressed concerns about the intentions of certain individuals within the maritime sector, whom they accused of attempting to enrich themselves and their cronies at the expense of the nation's common wealth.
Furthermore, the unions decried the deteriorating state of the nation's seaports, crumbling port access roads, and failing infrastructure within the ports. They urged the 10th Assembly to focus on addressing these pressing issues, including the urgent need to dredge ports such as Calabar, Warri, and Onne, to improve efficiency. They argued that lawmakers should not exploit unfriendly legislation to misappropriate public infrastructure for the benefit of a select few.
MWUN and SSASCGOC also criticized the sponsors of the bill for ignoring their demands to hold International Oil Companies (IOCs) operating in Nigeria's sovereign territorial economic zones accountable for not complying with existing maritime regulations, standards, and laws. Instead, they accused these sponsors of promoting legislation that would be detrimental to working-class Nigerians, the nation's security, and its sovereignty.
The unions expressed their concerns regarding the potential chaos and anarchy that could arise within the maritime industry if such a bill were to pass, given the sector's previously sustained peace since the idea of pushing this controversial bill was quashed in 2018.
The joint statement concluded by reiterating the unions' confidence in the Nigerian Ports Authority Act and its relevance to the well-being of workers in the sector. They made it clear that they are determined to further oppose the Port and Harbour Bill, vehemently demanding its withdrawal in its entirety.
The opposition from MWUN and SSASCGOC sends a clear message that they will not allow the passage of a bill they believe would have severe consequences for the nation's maritime sector, its workers, and the Nigerian citizenry. It remains to be seen how this contentious issue will be resolved and whether the National Assembly will reconsider its stance on the Port and Harbour Bill in light of the strong opposition it faces.