Date: November 7, 2023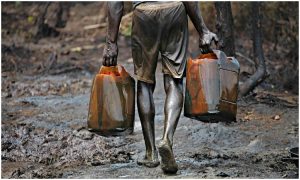 no
By Grace Chigbu
The Federal Government has revealed that Nigeria suffered significant losses amounting to N4.3 trillion over a five-year period due to oil theft and pipeline vandalism. This alarming disclosure was made during the Nigeria International Pipeline Technology and Security Conference in Abuja, which focused on the theme "Bolstering Regulations, Technology, and Security for Growth." The event was organized by the Pipeline Professionals Association of Nigeria.
The presentation, delivered by the Nigeria Extractive Industries Transparency Initiative (NEITI), a federal government agency, shed light on the grave issue of oil theft and its impact on the nation. Ogbonnaya Orji, the Executive Secretary of NEITI, emphasized that oil theft has escalated into a national crisis, posing a severe threat to the oil industry's exploration and exploitation. These activities have far-reaching consequences, affecting economic growth, business opportunities, and the profitability of oil companies.
Using data from NEITI's reports, Orji revealed, "NEITI disclosed that in the last five years, from 2017 to 2021, Nigeria experienced 7,143 cases of pipeline breakages and deliberate vandalism, resulting in crude theft and product losses totaling 208.639 million barrels. These losses were valued at $12.74 million or N4.325 trillion. During the same period, Nigeria spent N471.493 billion on repairing or maintaining pipelines."
The significance of the oil and gas sector to the Nigerian economy was underscored by Orji. He pointed out that according to NEITI's 2021 Oil and Gas Industry Report, this sector accounted for 72.26 percent of Nigeria's total exports and government foreign exchange, contributed 40.55 percent of government revenue, and provided employment for 19,171 individuals.
Despite these critical contributions, Orji highlighted the fact that Nigeria has not fully realized the potential benefits of its oil and gas resources due to persistent oil theft and losses resulting from pipeline vandalism, integrity compromise, sabotage, and insecurity in oil-producing regions. He stated, "From NEITI's reports over the years and recent insights from our membership of the Special Investigative Panel on Oil Theft and Losses, we are aware that oil theft is perpetrated mainly through pipeline clamping, illegal connections on major pipelines, exploitation of abandoned oil wellheads, pipeline breakages, and vandalism of key national assets to illegally siphon crude into waiting vessels stationed in strategic terminals. These criminal activities often occur in an atmosphere of community complicity and a conspiracy of silence."
Moreover, Orji raised concerns about the role of the Pipeline Professionals Association of Nigeria in perpetuating oil theft. He asserted, "As you are aware, illegal connections, pipeline clamping, etc., cannot be done by just anyone. Therefore, your association is largely complicit by failing to put in place stringent regulations and appropriate sanctions to curb the involvement of your members."
To provide a more comprehensive perspective, Orji disclosed that NEITI has reported 619.7 million barrels of crude losses valued at $46.16 billion or N16.25 trillion between 2009 and 2020. Additionally, Nigeria lost 4.2 billion liters of petroleum products from refineries valued at $1.84 billion, equivalent to 140,000 barrels per day, from 2009 to 2018. These staggering figures far surpass the size of the country's foreign reserves and nearly ten times Nigeria's oil savings in the Excess Crude Account.
During the conference, Orji emphasized that the Nigerian economy could not thrive in an environment marred by oil theft, pipeline vandalism, and overall insecurity within oil-producing communities. This dire situation not only impacts the government's revenues but also hinders the nation's economic growth and potential for prosperity.
The revelations made at the Nigeria International Pipeline Technology and Security Conference highlight the urgent need for comprehensive measures to address oil theft and pipeline vandalism. It is imperative for Nigeria to secure its valuable resources, promote transparency, and enforce stringent regulations to combat the threat to its economy and national security. The federal government and stakeholders must work collaboratively to develop and implement effective strategies to curb these losses and protect the nation's future.