By Umar Yusuf
Yola – The Independent National Electoral Commission (INEC) revealed on Monday that its suspended Resident Electoral Commissioner (REC) in Adamawa State, Barr. Hudu Yunusa Ari, and his surety are currently evading arrest and on the run, thereby delaying legal proceedings.
INEC had brought a 6-count charge against Hudu Ari, including allegations of announcing false electoral results, violating the oath of neutrality, breach of duty, disorderly conduct at elections, inciting disturbance, and impersonating a public servant.
During the resumed hearing, INEC's counsel, Rotimi Jacobs, SAN, appeared before the Adamawa High Court, presided over by Justice Benjamin Manji Lawan. He informed the court that the defendant had refused to respond to the investigative police officer's (IPO) invitation, even after being served a hearing notice.
As a result, Jacobs requested the court to adjourn the case to allow the police to arrest Hudu Ari for arraignment and trial. Alternatively, he suggested that an application could be made to the court for a warrant of arrest against the defendant.
The IPO, identified as CSP Moses Jolujdo, confirmed in court that both the defendant and his surety were actively evading arrest.
In response to these developments, Judge Benjamin Manji Lawan granted the application and subsequently adjourned the case to November 22, 2023, for the arraignment.
Speaking to reporters, INEC's counsel, Rotimi Jacobs, expressed concerns about the defendant's evasion, stating, "The defendant has been evasive. You can't get him or arrest him. He is hiding. The lawyers have been encouraging him to do so."
He urged the police to intensify their efforts to apprehend Hudu Ari and ensure his prosecution.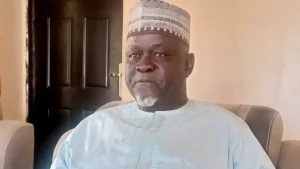 OP
The case against the suspended Adamawa REC has attracted significant attention, as it underscores the importance of upholding the law and ensuring that those accused of electoral misconduct face legal proceedings. INEC's pursuit of Hudu Ari's arrest reflects its commitment to maintaining transparency and integrity in electoral processes. The upcoming court date on November 22, 2023, will be crucial in determining the course of action against the defendant.