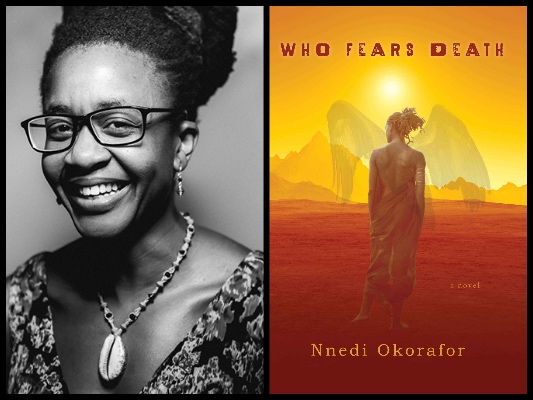 We are trying not to loose our minds as we break this amazing news to you. Nnedi Okorafor's novel, Who Fears Death, has been acquired by American media power house HBO. George R. R. Martin, the writer of the mega hit series Game Of Thrones, is the executive producer of the TV show.
The news came early this morning when the award winning author announced it on Facebook while noting that the project has been four years in the making. "Note," she writes,"this did not happen overnight. It's been four years coming."
The good news here is that the TV series is happening. Usually, we hear that a production company has acquired the rights to an African novel—like when Lupita Nyongo acquired the rights for Adichie's Americanah or when Leonardo di Caprio's production company bought the rights to Lauren Beukes's Shining Girls. But acquiring rights is just the first step in a process that is so long and so complicated that the movie could actually never see the light of day.
With Okorafor's book, the TV series is in "early development," which could mean a whole range of things. But what that tells us is that they have moved far beyond the film rights stage and are actually putting things in place to make the TV show happen. There is also an executive producer. Not just any producer, but George Martin who over the years has established himself as a solid HBO brand. So we know the Who Fears Death TV series will most likely happen, and we know it will be amazing.
Just how much creative control will Okorafor have? In her response to a fan who asked the same question on Facebook, she writes:
a lot. i am very involved. i also know george well (we met in 2014 and stayed in touch); he's been a sort of mentor to me through all this. and all those involved know what this story is; onyesonwu is in good good hands.
We are not entirely surprised by George Martin's involvement in the project. He has had African writers on his radar for a while now. Last year, he told Bookbub.com that Lauren Beukes' Broken Monsters is one of the 9 novels he thinks everyone should read and called her "a major talent." The fact that he is now collaborating with Okorafor on this project make sense. Okorafor and Beukes are two of the most celebrated African sci-fi fantasy writers today.
For those of you who haven't read Who Fears Death, here is the synopsis:
In a post-apocalyptic Africa, the world has changed in many ways; yet in one region genocide between tribes still bloodies the land. A woman who has survived the annihilation of her village and a terrible rape by an enemy general wanders into the desert, hoping to die. Instead, she gives birth to an angry baby girl with hair and skin the color of sand. Gripped by the certainty that her daughter is different—special—she names her Onyesonwu, which means "Who fears death?" in an ancient language.
It doesn't take long for Onye to understand that she is physically and socially marked by the circumstances of her conception. She is Ewu—a child of rape who is expected to live a life of violence, a half-breed rejected by her community. But Onye is not the average Ewu. Even as a child, she manifests the beginnings of a remarkable and unique magic. As she grows, so do her abilities, and during an inadvertent visit to the spirit realm, she learns something terrifying: someone powerful is trying to kill her.
Desperate to elude her would-be murderer and to understand her own nature, she embarks on a journey in which she grapples with nature, tradition, history, true love, and the spiritual mysteries of her culture, and ultimately learns why she was given the name she bears: Who Fears Death.
This is such happy news guys. We are beyond delighted for her. When you've rooted for someone from day one and you see them meeting unbelievable milestones, it's hard not to revel in their joy. Join us in celebrating Okorafor's success and what this means for African literature as a global brand.