On a very good day, this event would have taken place under the moonlight , the guests sitting by the fireside at the feet of the mountain or at the back of a hut in Kamirithu village, corn and bush meat roasting on the fire to serve as refreshment as the Crickets chirps, keeping the night company while Prof. Ngugi one of the most prominent grand dads of African Literature ,slowly drops his nuggets of wisdom into the ears of his ardent listeners.
The nostalgic scenario painted in the first paragraph is yet to be, but we are all looking forward to it as soon as the inconsistencies that Covid 19 pandemic ushered into our lives have dissipated, but sure we the literary disciples of the icon had conversations with our principal Ngugi wa Thiongo and his nuggets of wisdom still ring in our ears over a forth night that we beheld his presence.
With Dr. Rahab Njeri of Kemet Awards for Achievement in African Languages (KAAAL) and Odillia Anyachi of International Africa School and Business Academy intermittently hosting the meeting ,we eagerly opened not just our ears but our minds with expectation whenever the Mic is passed to the Professor, and sure we met more than our expectation as he consistently opened doors to the unknown.
The Prof. made  efforts to get us over-stand the importance of not just speaking and writing  in our local languages, but also in ensuring the visibility of our indigenous names in our documents ,as well as ensuring that its consistently attached to our identity so that people of other nationalities learns  to pronounce them so we don't lose ourselves.
''Memory and consciousness are inseparable, without memory who are we, when we discard our indigenous names and present our baptismal names which are borrowed from other cultures, we are subduing our true identity, because the name is the first pointer to who we are, and where we are from.
" the name is the first thing that says ,this is who I am, so when you are answering a name borrowed from other languages be it English ,French or Arabic as an African, the first pointer of who you are as an individual is already pointing elsewhere" he explained.
Slowly with his words accompanied with a consistent light grin, he narrated to us of how new names has taken over the identity of ancient places ,he made reference of today's New York City in the USA which was formerly named New Amsterdam by the Dutch, when they acquired the land from the natives. The English renamed it New York city in 1664 in honor of the Duke of York, today the ancient history of the land is widely unknown to many.
In the pre-colonial era, the area of present-day New York City was inhabited by Algonquian Native Americans, including the Lenape. Their homeland, known as Lenapehoking, included Staten Island, Manhattan, the Bronx, the western portion of Long Island (including the areas that would later become the boroughs of Brooklyn and Queens), and the Lower Hudson Valley but those history are not of interest to anyone today.
Both the Dutch and the English replaced the name of a place as it is known by its former inhabitants, today the name and all that it was before, is buried under its new name New York. An outcome that it was  consciously designed to achieve.
"In a similiar fashion we are being taught to forget ourselves. If we forget ourselves, there is an empty space about us that others can fill with whatever they choose " Ngugi cautioned.
"The ancient Egyptians were as black as anything, but they erased it all from our memory, Egypt is in our continent but most of us still don't believe that their great historical strides and accomplishment are ours. The European put their languages first and killed ours, you go to other countries apart from Africa, and they speak their mother's language''
''We forsaking our languages,Is not something that is accidental, it is intentional, it is the Original Sin, to make people forget who they are.  In 1952, the English imprisoned all the publishers of magazine who published in African Languages in Kenya ,and then introducing that of English to silence the memory of who we are, you see the force and influence of language is powerful, its conquest is more powerful than that of the sword.'' Ngugi reiterated.
In education ,research has proven that mother-tongue is always the best tongue to learn, in the west,the language of working in the field, the language of hanging out with friends, the language of the family is the same language they teaching their wards with.
As we play along with the trend of adopting names of our colonial masters, we are deliberately silencing our stories, in relation to the English conquest of the Irish and why today's Irish people speak English and not Gael their ancient language, online sources reveal that this new culture emanated when Irish language was forbidden to be used in schools, all official documents (including any records that ordinary people would encounter) were all produced in and completed in English. So later to get ahead in life, in the cities, in business, you had to speak English. Irish was seen as the language of the peasantry, the poor, and the uneducated. So the Irish gradually became entirely English speaking people.
Same scenario is playing out in today's Africa in a different guise; we have been subconsciously conditioned to look down on our language in most African nations and grade each other's level of intelligence with their prowess in speaking and writing languages of our colonial masters, so abnormality is being sold to us as civilized normality.
As Children, we grasp the world from our parents, grandparents and other culture carriers. If we cannot speak the mother tongue, we lose our historical concepts of understanding and grasping the world. And we cannot grasp our history and our concepts of the world from another language – it does not have our concepts.
''You and I know that there is nothing wrong with English, what is wrong with English is the pedestal where it has been raised to, so that other language must die for English to be. Any man that knows others language but not his own is a slave, If you know your knowledge and other peoples knowledge including your language and that of others, then you are empowered, know yourself first, then know others, it will help you to know yourself more and when you know yourself more, you know others more'' the renowned literary giant and Distinguished Professor of English and Comparative Literature at the University of California concluded on that solemn evening of  12th of  March 2021,  leaving us with food for thoughts, to help us unravel our next actions on how to re-interpret our engagement with our local languages.
About KAAAL Conversations
KAAAL ​is an organization based in Germany, founded by Rose Wambui Kamande and Rahab Njeri – Germany; Odilia Anyachi Okonga and VambaSherif -The Netherlands.
The purpose of ​KAAAL​ the organization is to bring to light the works of great authors and African literary works. For more information visit: www.kaaal.org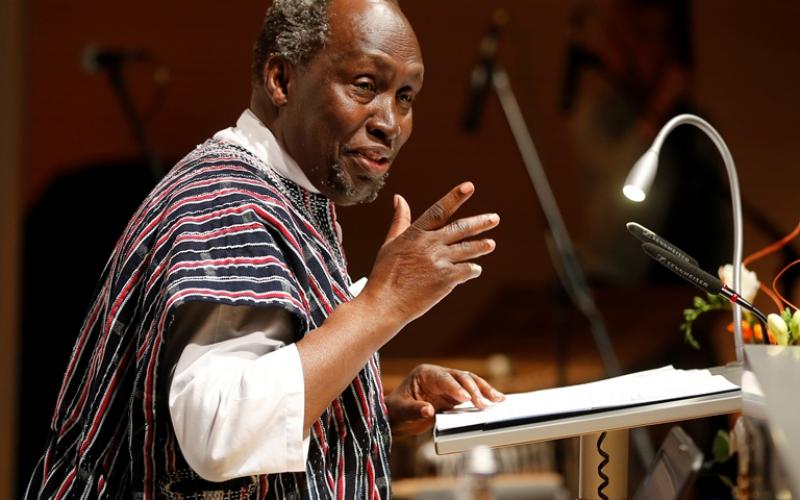 The Author: Cookey Iwuoha is Project Coordinator All Africa Media Network( www.aamn.africa), and Convener African Elders and Women Intercultural dialogue. He is a dialogue facilitator, passionate creative writer, poet and published author. He is the publisher of Nigerian Eye Newspaper, a Young Africa Leadership Initiative (YALI) Alumni, and has participated in other capacity development programs like United Nation Foundation's Virtual Reporting Fellowship, Center for Human Rights Certificate on African Human Right System and Amnesty International's Freedom of Expression Certificate program among others.