After yesterday's heated banter on Rant HQ Facebook page in which Susan Ade Coker was believed to have targeted one section of the nation , the harsh statement which some Igbo's of Nigeria who are members of the group found derogatory to their tribe and cultural identity condemned it and further requested for an apology which she declined to tender.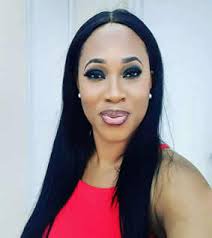 The issue is becoming more expensive than Susan Ade thought as it seems to have cost her the official website of Rant HQ which is domiciled in USA with www.ranthq.org  , early hours of this morning as of 4.am the website was up, but few minutes ago we rechecked to find it  suspended.
The website domain was renewed this year on 24th January and the current subscription is supposed to expire on 23rd January 2021 which is next year but the account registered on Ascio Technologies, Inc. Danmark – Filial af Ascio technologies, Inc. USA. The UNNigeria seem to have also distanced themselves from her as their tweet accompanying her video on her lending her voice to the Covid-19 pandemic has been removed and no longer available.
https://twitter.com/WHONigeria/status/1260663119669530624
This new development implies that she is losing endorsement and credibility in the sight of reputable organisations that has recognised her efforts; some believe that if she had apologized at the onset and retract her statement earlier on the issue wouldn't have escalated to this proportion.
Nigerians of diverse tribe and socio-cultural background are signing a petition against her and Rant HQ on change.org over 1 year ago.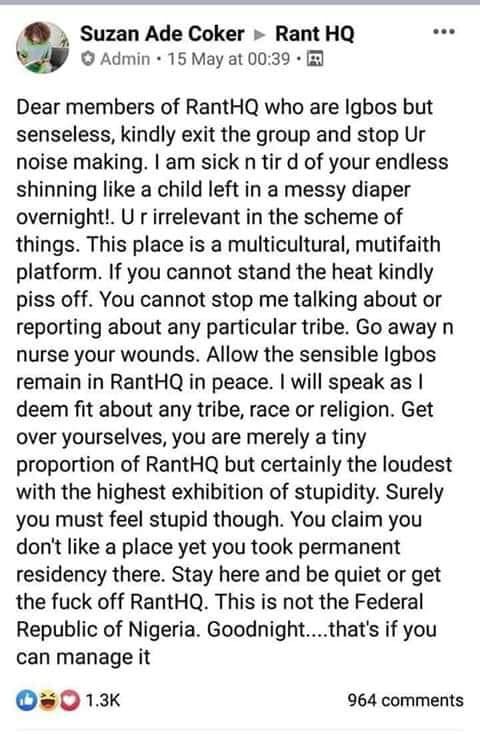 This perceived  divisive comment  from her led to more exchange of comments which infuriated some of her group members and has elicited them digging out an over 1 year petition from Village Celebrities Ltd alleging the unprofessionalism of  Rant HQ company for disengaging from a paid project after a week of activity , and a possible act of fraud  for soliciting for charitable donations from the public without being registered as a charitable organisation in UK, and also refusing to issue them a receipt for their donation to her cause.
https://www.change.org/p/surrey-police-shut-down-ranthq-ltd-a-scam-nigerian-419-company?signed=true
Susan Ade Coker has vowed on of her facebook comment that she owes no one apology and will stand by her own truth, but now with the loss of endorsements from reputable organisation like UN Nigeria it seems a lot of people are not affirming her position and there is need for her to hastily retract her statements or face a long time in the sidelines alone.