"Have you seen a man who is expert in his business? he will take his place before kings'' the above quote from Biblical Chapter of Proverbs 22 verse 29 cannot be over emphasized on the person of Benjamin Nwokorie the Cubana Lord popularly known as Ahuonu.
As they say, good tidings follows the diligent man, The Cubana Lord's circle of influence has consistently expanded over the years because of his exemplary brand management prowess which he was honoured for by my media Africa on Wednesday December 16th at the prestigious Radisson Blu Hotel, in Ozumba Mbadiwe Street, Victoria Island.
Such recognition for the Beardking for his excellence in service to the hospitality sector of Nigeria, where he has emerged as one of the most sought after brand managers has been long overdue.
Ahuonu who recently assumed the top most managerial seat in Imo State Cubana office was honoured at the Illustrious Africa Award 2020 alongside Dr. Goodluck Jonathan, Hon. Abinye Blessing Pepple, John Ogu, International and Super Eagles player, Bar. (Mrs) Tam-George , Chief Femi Fan-Kayode ,Dr. Sani Shinkafi and few others by My Media Africa, a top notch media brand Headquartered in Lekki Lagos Nigeria.
From his humble beginnings yester-years ,to his glamorous and glorious days of recent, one thing has remained constant about him and that's his diligence to work , a trait that sets him apart from the rest and has invited the demands for his service from Owerri to Abuja, Lagos and beyond, yet again this super trait of his has accorded him a well deserved recognition as one of the best in his field.
The Illustrious Africa Awards' is a very competitive honour, as the evaluation process of selecting the winners are predominantly based on data gathered on the impact and contribution of the awardees in their respective industries while utilizing credible parameters and tools of data evaluation that meets international standards.
Ahuonu The Cubana Lord made it to this year's recognition list for his over a decade contribution to the growth of the hospitality sector, which he has consistently utilized innovative and dynamic measures to ensure that the brands he has managed in his career remained relevant and dominant in their respective localities of operation till date.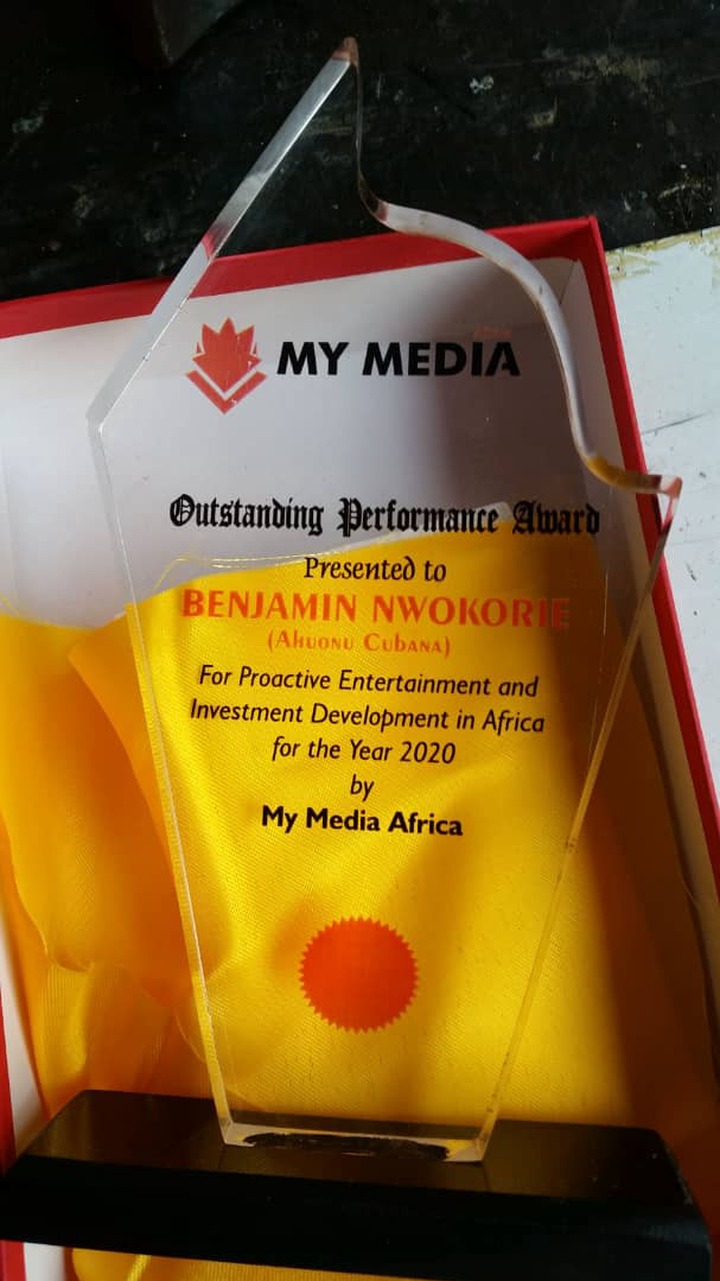 Ahuonu's Importance in this industry cannot be underestimated anymore ,as his recent recognition in Lagos the epi-center of Nigerias economic activities consolidates him at the highest heights of brand management in the nation, his large social network with people that matters in keeping doors of Businesses open till wee hours of the next day is impressive , a feat which he has built in his over a decade experience in running exotic activities and which he has impeccably sustained with his excellent interpersonal skill with people, and complimented with his consistent loyalty to business relationships built over time.
The Beardking is a sober guy very attentive to details,his excellent public relation capacity hinged on his extra matured persona , has been the landmark of his success in this industry over a decade now.