The Vice Chairman of the Lagos State Chapter of Nigerian Bar Association, Okey Ilofulunwa Esq was a guest of Onomen Onohi ,popularly known as Nomzky ( Solo Dolo)at his Artpedia Gallery, situated at Lekki Phase 1 Lagos State Nigeria.
ArtPedia opened its doors to the public with an exhibition themed 'The Persistent of Time' whichfeatured works from six Nigerian artists namely Ikechukwu Ezeigwe, Sejiro Avoseh, Ada Godspower, Habeeb Andu, Elizabeth Ekpetorson and Fredrick Idele. The Artistswhose works though diverse in their expressions, found a unification in the artistic inspiration of the time they represented.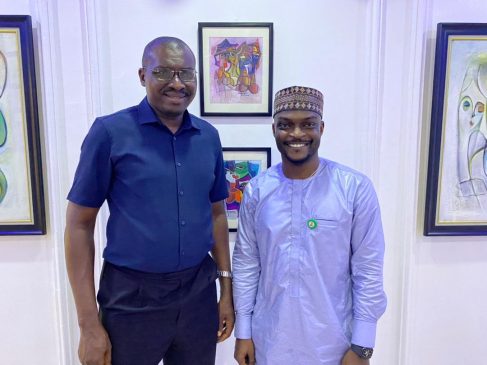 Okey Ilofulunwa Esq, who cut his legal teeth in Olisa Agbakoba's Chambers, graduated from University of Benin and had his masters at Notre Dame University in the United States of America as well as being the vice chairman of Lagos State Nigeria Bar Association, he doubles as Secretary General of Aka Ikenga an Igbo Think Tank Organisation and also managing partner of Chancery Law firm in Ikoyi Lagos.
Onomen Onohi who was elated by the presence of his legal luminary friend at the exhibition his Art Gallery powered , is a product of Igbinedion University ,Kwame Nkrumah University of Science and Technology (KNUST) Kumasi Ghana, and Lead City University Ibadan, has emerged as a seasoned Art Collector as he has traversed different parts of the world in search of artistic gems.
The CEO of Artpedia Lagos is also an event, music and art promoter, with decades experience, his passion for visual art led to the establishment of Artpedia Gallery in the Freedom way environs of Lekki Phase 1 February this year.